Discussion Starter
•
#1
•
Continental R started as normal and ran for a approximately 10 mins. without any warning the car shut off and would not start again.
Auto electrician traced the fault to a faulty relay - I think that it controls the fuel pumps and other things. This has been replaced and the car seems to be ok now.....
Has anyone else had a problem with this part failing.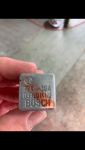 I could not get a metal replacement so now have one with a plastic cover - Are the metal ones still available?
I am based in the UK, and would consider swapping out the plastic relay for the original metal look....
Thanks